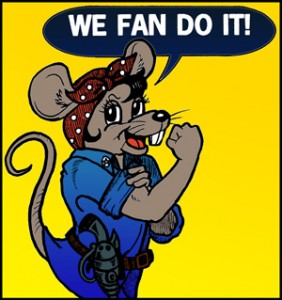 2015 Co-Guest of Honor: TAMORA PIERCE
Fantasy Author – Battle Magic, Beka Cooper, Tortall & Other Lands, The Immortals, Song of the Lioness, Protector of the Small, Circle of Magic.
Website: www.tamora-pierce.com
2015 Co-Guest of Honor: CATHERYNNE M. VALENTE
SF/Fantasy Author – Six-Gun Snow White, The Bread We Eat in Dreams, The Girl Who Circumnavigated Fairyland in a Ship of Her Own Making, Deathless, Myths of Origin, The Melancholy of Mechagirl.
Website: www.catherynnemvalente.com
B47 Toastmistress: MARY ROBINETTE KOWAL
SF/Fantasy Author – The Lady Astronaut of Mars, Valour and Vanity, Glamour in Glass, Shades of Milk and Honey, Evil Robot Monkey, Scenting the Dark and Other Stories, Professional Puppeteer.
Website: maryrobinettekowal.com
2015 Guest Artist: RUTH SANDERSON
Fantasy, Fairy Tale & Book Cover Artist, Children & Young Adult Fiction Illustrator, Member of the Society of Illustrators.
Website: www.ruthsanderson.com
---
Announcements:
BUBONICON 47 weekend passes are on sale now!  Visit our REGISTRATION PAGE for more info, etc.
FUTURE DATES: Bubonicon 48 will be August 26-28, 2016 (the weekend after the Kansas City, MO Worldcon).  For Bubonicon 49, Washington DC is bidding for Worldcon August 16-20, 2017, and Montreal is bidding for Worldcon August 31-Sept 4, 2017, so we should be the weekend between the two (August 25-27, 2017)! [Nippon, Japan, and Helsinki, Finland, also are bidding but are not the frontrunner bids at the moment.]  And Bubonicon 50 in August 2018 will be based on who wins that Worldcon contest [San Jose vs. New Orleans].
OUR BENEFIT SCREENINGS of Joe R. Lansdale's Christmas with the Dead are coming up – 10:30 pm Friday & Saturday, November 28-29.  These two screenings will partially benefit the ABQ Public Library Foundation!  Join us at the Guild Cinema for some zombie holiday fun – with door prizes.  Info: www.guildcinema,com.  Also that weekend – a Sci-Fi Double Feature of This Island Earth and Forbidden Planet at the Guild Cinema.  Join us for Robby the Robot and the Metaluna Mutant!
CONGRATULATIONS TO WORLD FANTASY Award Winners – Dangerous Women, edited by (Santa Fe author) George RR Martin & Gardner Dozois, won the 2014 World Fantasy Award for Best Anthology.  Several NM & Bubonicon authors are in this volume.  And former Bubonicon artist guest Charles Vess won Best Artist at the November 9, 2014, ceremony in Washington, DC.
5th ALBUQUERQUE COMIC CON will be January 9-11, 2015, at the ABQ Convention Center.  Special Guests announced so far include Sergio "Groo" Aragones, Claudia "Babylon 5" Christian, Vern "Mini Me" Troyer, local artist Andy Kuhn, Rachel "Lost Girl" Skarsten and actor Deep Roy.   Go to www.albuquerquecomiccon.com for more info.  A 3-day pass is $40.00 and Saturday-only is $20.00.
CONGRATULATIONS TO JAMES S.A. COREY:  The Expanse series by Corey (Daniel Abraham & Ty Franck) will be a 10-episode series on SyFy starting Fall 2015. We look forward to seeing their vision come to the small screen in what is being called the most expensive series ever for a basic cable network.
---
BUBONICON 47 PASSES On Sale Now:
* $35.00 through Saturday, February 14, 2015.
* $45.00 At The Door (August 28-30, 2015).


Do NOT Mail in Pre-Registration forms after August 10.
US-drawn funds only, please. We accept, of course, checks, money orders or cash.  * Credit-card shopping cart available NOW.
Youth Passes (14-17 Years of Age): $23.00 for the entire 2015 weekend.
PLEASE NOTE: Everyone 14 years of age or older at Bubonicon must have a pass & a badge or wristband.
Children Under 14 Years of Age are free, BUT must be accompanied by a parent/guardian.
GO TO OUR REGISTRATION PAGE for more info, etc.
Please note that Pre-Registered folks should be able to pick up their badge & packet 1:00-2:00 pm Friday, August 28.  Regular Registration Desk is planned to open at 3:00 pm Friday, and 9:30 am Saturday for the sale of passes and to pick up materials for pre-registered attendees.
ADDRESS ALL CORRESPONDENCE TO:
Bubonicon Inc
933 San Mateo Blvd NE, Suite 500-208
Albuquerque, NM 87108
(accepts US Postal, FedEx, UPS, etc)

---
OUR HOURS (most likely) AT ALBUQ MARRIOTT UPTOWN:
Pre-Registered Folks probably can pick up their badges & packets 1:00-2:00 pm Friday, August 28.
Otherwise, Registration should open at 3:00 pm, with the first programming in the 4:00 hour. On Saturday, Registration usually opens at 9:30 am, with first programming at 10:00 am. On Sunday, August 30, Registration is scheduled to close at Noon, and the Con ends right around 5:00 pm.
---
2015 LOCATION (HOTEL):  The Albuquerque Marriott Uptown
2101 Louisiana Blvd NE (Louisiana & I-40) Albuquerque, NM 87110
2015 Room Rates: $99 single-quad.
Hotel Reservation Deadline For Guaranteed Rates is Monday, August 17, 2015.
GO TO THE HOTEL PAGE for information on making your room reservation by phone or online – and to see all the party room policies at the Marriott.
* IMPORTANT HOTEL POLICIES: The Albuq Marriott Uptown only allows Service Animals on premises.  And All Room Parties must be on the Party Floor. Any Room Parties on other floors may be closed down by the hotel.  The Bubonicon Party Floor will be on the 3rd floor in 2015.
---
2015 CONFIRMED PARTICIPANTS

Confirmed: None this early!
2015 CANCELLATIONS:  Not yet…
HOW DO I GET CONSIDERED AS A PARTICIPANT? We have a rather large cast of players already, but we're willing to consider additions of writers & artists. Send an email to bubonicon–ät–gmail–d•t–com with your credentials/areas of expertise, background and/or bio, and a list of your publications (and publishers – we prefer the well-known ones, even if smaller). And thus you will be considered… But we must warn – 2015 will be pretty full…
---
BENEFICIARIES:
Bubonicon 47 will benefit at least the Williamson Library Collection at Eastern NM University, the Roadrunner Food Bank, and the Albuquerque Public Library Foundation.
---
2015 CON THEME is: Unknown Yet! Stay Tuned!

The Theme for the Con is not known yet!
Recommendations of the Theme:
BOOKS/COMICS:  We're sure there will be some…
MOVIES/TV:  Ditto!
---
2015 DEALERS ROOM - On Sale Late February 2015
2015 Dealer Spots – Not Available Yet

See the Dealers Room page for complete details…
---
SEND YOUR comments on 2012-2015, thoughts and stories to co-chairs Craig and Caci. We'd love to hear about Bubonicons 44-46 from you all!